Big Whale Labs Pre Seed Announcement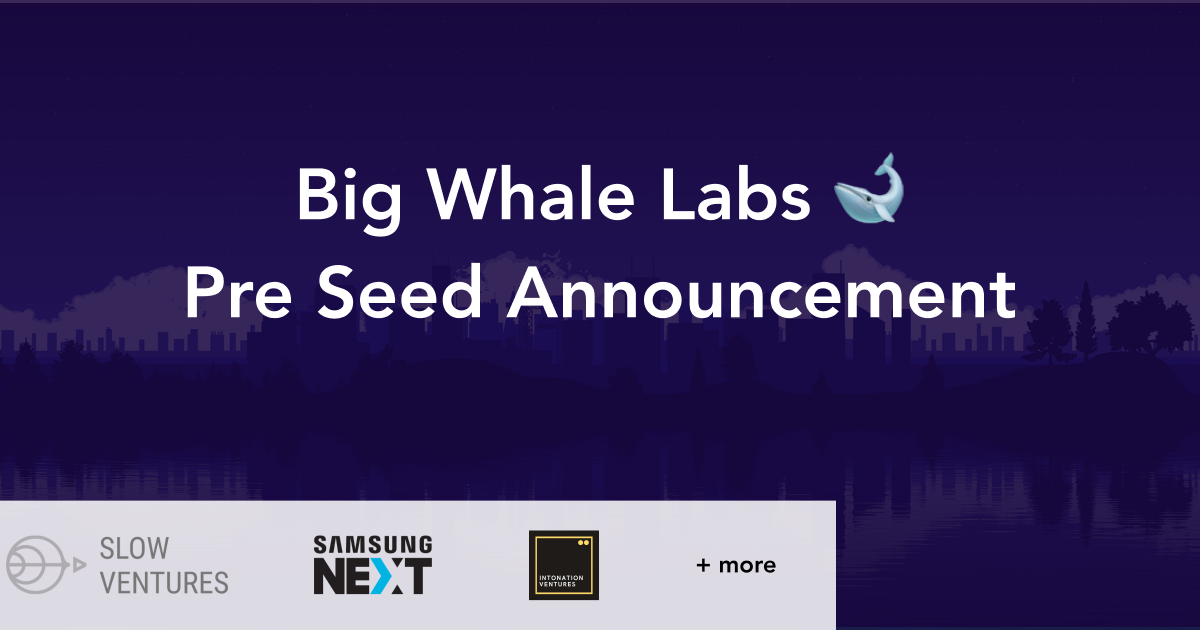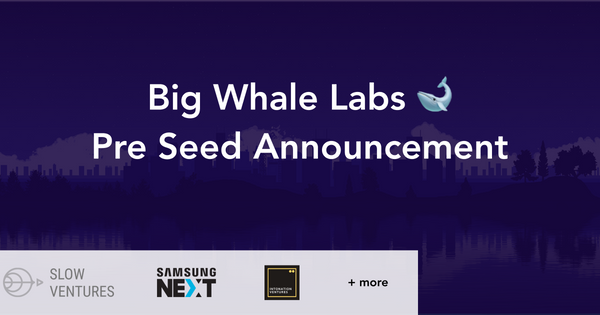 We're thrilled to announce that we've closed our pre-seed round of funding led by Slow Ventures with participation from Samsung Next, Intonation Ventures, NFT Investments, and notable angels including both Anton Bukov + Sergej Kunz (co-founders of 1inch, the largest DeFi Dex aggregator), Alex Shin (Co-founder of Hashed, Korea's largest crypto VC), Ajeet Khurana (former CEO of Zebpay), Kevin Sandhu (Co-founder of Control), and more.
We're excited to bring on an amazing group of crypto and social veterans early to help shape our direction, product, and community.
Who are we:
Big Whale Labs is a web 3 social startup with the mission to enhance human-to-human connection online to make social more safe, fun, secure, and free.
We're based in Vancouver, BC, and are founded by Jason and Nikita who were college floormates nearly a decade ago, working on iOS apps together when they were teenagers.
Nikita is Telegram's most successful third-party app developer. He's scaled his apps to over 60 million aggregate users globally, most recently exiting Shieldy Telegram Bot to 1Inch Defi Networks after scaling to 20 million users. Side note - both cofounders of 1Inch have also invested in this round, thanks, Anton and Sergei!.

Jason started his foray into tech running a gaming community forum at age 13. He sold custom forum banners and display pics that were NFTs before NFTs. Most recently he was the Co-founder and Head of Product for a YC and Venture-backed developer tool startup.
"I know Nikita as one of the most focused serial entrepreneurs who have a proven track record and an understanding of how to achieve the most challenging goals," said Anton Bukov, Cofounder of 1inch Network, "Social networks are the area yet to be disrupted by decentralized technologies, while Nikita and Jason are totally equipped to accomplish this endeavor. And I'm happy to be part of the future revolution!" - Anton Bukov, Cofounder of 1Inch
Why this:
Social is stuck in the last decade (or 2 decades ago)
Asymmetric downside to sharing ideas freely because the content is bundled with IRL identity.
Echo chamber communities because the social graph is either too tied to IRL or is hyperbolic.
Zero innovation in user-to-user interaction outside of stories, stickers, and audio messages
We believe that the pendulum will swing back from people oversharing under their IRL identities to using virtual, fractionalized identities to engage with each other similar to how early internet forums were.
As well, similar to how billions of people are using social networks like Facebook - in the next decade billions of people will be onboarded on to Metaverse platforms (Despite the memes, skepticism, and Fortune 500 companies already overusing the term).
However, we don't think the Metaverse is just another 2D or 3D regurgitation of Runescape or Minecraft built by people who've never played MMORPGS.
We believe to unlock the true potential of a Metaverse - we need to decouple digital identity with IRL identity and build new mechanisms to interact, transact, and engage with each other that are free, open, and aligned in incentives from companies, developers, to users.
What's next?
This funding round helps position us to build more effectively in every facet.
In terms of product, we will continue the development of Dosu, our web 3 social app, StreetCred, our pseudonymous credential protocol, and SocialGraph, please subscribe to blog.bwl.gg to stay in the loop.
Our goal is to allow people to build pseudonymous, fractionalized identities, but provide a zero-knowledge proof platform to verify information and credentials about these accounts.
We'll also release tools to help onramp people that are hosting web 3 communities on web 2 platforms to interact more safely together (Discord, Telegram, and other apps) - our current code name is StreetCred.
Regarding our launch plans, we are excited to announce that we are on track for shipping an early version of our product, starting with an NFT drop coming soon to kickstart our community and an early testnet version of StreetCred and Dosu in production.
We are also looking to hire some amazing product engineers and designers to join us on our adventure. Joining Big Whale Labs now is the perfect opportunity for folks that want to play an important role in helping define our core product, community, and culture.
From Jason + Nikita 🐋